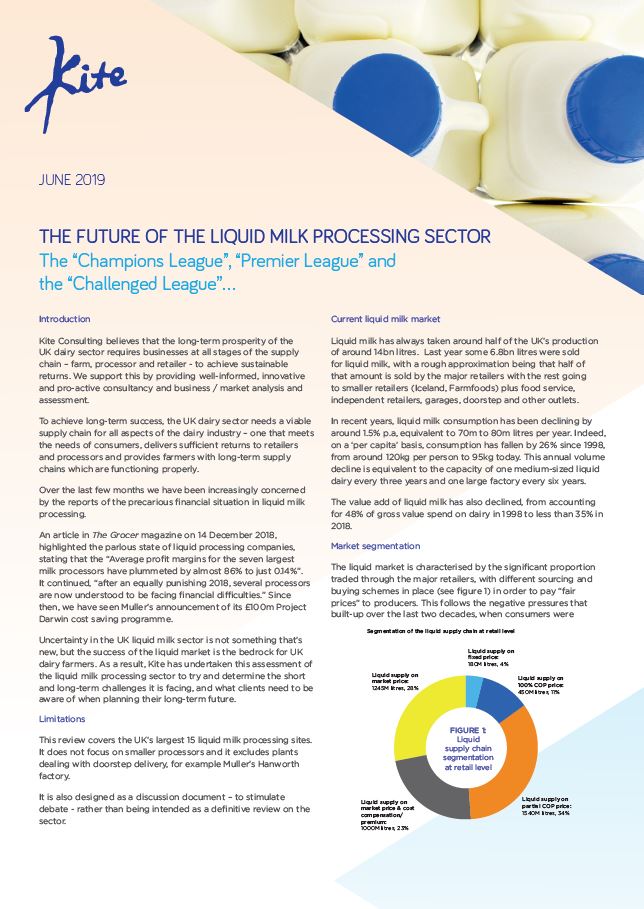 Kite Consulting launches new analysis of liquid milk sector
Report concludes that current lack of returns means liquid sector cannot invest, driving uncertainty throughout the supply chain that is the bedrock of the milk sector. Report suggests that the sector requires cost increases and at least 2ppl to invest in maintaining sustainable capacity.
Kite Consulting has today launched "The Future of the Liquid Milk Processing Sector" – a report containing an analysis of the sector that considers the short and long-term challenges it faces and what farmers need to be aware of when planning their long-term future.
The report identifies that the liquid market is over-supplied, and in a precarious financial position due to pressure on margins.
Main conclusions:
Industry entering a new phase when demands on food safety, shelf life, environmental performance, welfare and traceability are growing, meaning only well-invested processing businesses can meet requirements.
Over-supply in the processing sector in a market which is declining 1.5% per annum has driven marginal pricing, putting pressure on returns.
Shortage of funds for re-investment is likely to drive more rapid decline in factory capacity, presenting a challenge for dairy farmers.
Sector needs resources to 'protect and promote' dairy against increasing challenge from environmentalists and vegan movement, through brand development and consumer engagement
The biggest opportunity to re-balance and improve margins throughout the chain is the removal of over-capacity to match capacity to demand.
If margins don't improve then risk of polarisation of processing facilities – with best 'Champions League' sites being near or at capacity serving retailers, and 'Premier League' or 'Challenged League' sites falling behind, risking further instability in the sector.
Commenting on the report's conclusions, John Allen, Managing Partner of Kite Consulting, said:
"At Kite we believe that the long-term prosperity of the UK dairy sector requires businesses at all stages of the supply chain to achieve sustainable returns – something we support by providing well-informed and proactive consultancy. We are concerned that the lack of returns throughout the liquid sector means that we risk further instability. Furthermore, it means that we risk entering a vicious cycle of a market in decline, under pressure from non-dairy alternatives, with insufficient funds to 'protect and promote' itself.
"The developments that are currently occurring to remove production capacity should re-balance the market and result in better true pricing throughout, restoring realistic margins. Yet there will be winners and losers given the obvious challenges ahead, and it is important that all businesses, from farmers to retailers, identify if their processing partner can thrive going forward. Now is the time to align with those who will end up the winners."